I'm a lighter, not a writer – so when Jemmma Gross [Epsilon Productions' Artistic Director] popped me a little note asking if I'd written my blog my stomach dropped a fair distance… But here goes!
I was given to the lovely Epsilon by another company when they were staging Skin Tight at the Park last summer. It was a great piece and I loved being able to manipulate the audience with subtle changes of colour across the stage and backwall – using shifting tones that barely register to change how the audience reacts to the action onstage… taking something from warm/comforting to cool/threatening.
So I was very excited all the way back in March when Jemma and Angela got in touch to ask me about lighting the new summer season at The Park Theatre. I was immediately drawn to Crystal Springs. The stage directions dictate a table at centre and then stools against the backwall that the cast sit on when not part of the scene. I online casino had visions of each chair being lit from above with an infinite range of colours so that I could give the emotional reactions of the offstage characters through the colours they were lit in (shiver of designer excitement).
Once discussions started between Jemma and Mike (production designer – see his earlier blog) we decided to abandon the stage directions and they came up with our gorgeous 'macbook' set. Thus my challenge went from being about how to make the stools interesting – to how to use lighting to reinforce the backwards time scale. After throwing around various ideas Jemma and I decided that we would use the colour temperature of the lighting to tell the story. We would start in the cold harsh light of unhappiness and death, then slowly through all the scenes we would mix in warm light until by the end it was all warm, soft, happy and bright. On top of that I would use my colour changing lights to tone the stage and give a bit more interest/help show the location shifts.
So the lights went up, the focus happened, and the plotting began. Changes were made to lighting angles and levels within the looks. There were the usual brilliant surprises when you realize an actress is caught in a light you never expected at just the right moment. Then, after what felt like mere moments, we opened! And I started working on the next play…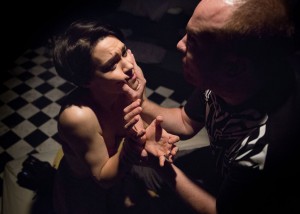 Now I'm not going to give any spoilers on Chicken Shop – but I'm spending a lot of time looking at shades. You'll just have to come see it to find out what that means
Photo of Crystal Springs and Chicken Shoptaken by Kim Hardy