Extremities
By William Mastrosimone
Performed at Courtyard Theatre, London – March 2011
Tabard Theatre, London – April 2011
Epsilon's Multi Award Nominated production gained the converted
Time Out CRITIC CHOICE plus 4 Stars

Shortlisted for BEST PLAY in the London Festival Fringe Awards 2011

Nominated for BEST DIRECTOR & BEST FIGHT CHOREOGRAPHY in The Offies 2011
Today is a day like any other. Nothing new is planned for Marjorie's morning other than clearing away the breakfast plates left by housemates Terry & Patricia & easing her way into the afternoon, until this summer's morning brings two unwelcome visitors: the first, a wasp, stings Marjorie but escapes, the second, Raul, a stranger & serial rapist does not. This time he has met his match.
The housemates return to find the tables turned and Marjorie in control of Raul but not quite of herself. Who will their loyalties lie with? Who is the victim now? And whom will they believe?
Raul calculatedly plays on their fears, doubts and judgment and unleashes a contagion of hatred with Marjorie at its center battling to maintain a balance between her animal nature and her humanity.
"I crave to be like him! No mind, no care, nothing human holding back the impulse to strike, tear, slash, and reduce him to splinters of bone! O God, make me more like him!"
Extremities takes us on a journey of exploration through the impulses of self-preservation & revenge. What happens when we're backed into a corner & it's a case of us, or them, when the veneer of civilisation is broken open & our basic survival instincts are awoken? What happens to our humanity when it's under threat from our own animal within? The play investigates issues surrounding personal choices of both victim & perpetrator…when survival is key
Cast
Angela Bull:Marjorie,    John Schumacher:Raul,    Hannah Dean:Terry,    Kas Darley:Patricia
Creative Team
Director – Rob Stuart
Set Designer  – Jessamy Wilson-Pepper
Lighting Designer  – Adam Burns
Fight Choreographer – Lewis Penfold
Production Manager  – Adam Burns
Production Photography – Andy Colbourne (AC Photography)
Reviews
★ ★ ★ ★ Time Out – Critics Choice_No.1 Pick of the Week
★ ★ ★ ★ ★ London Theatre Guide "Unmissable drama"
★ ★ ★ ★ ★ Planet Browny "One of the best productions I have seen on the Fringe for many years.""Atmosphere was electrically charged"
★ ★ ★ ★ Remote Goat "Compelling performance of a classic"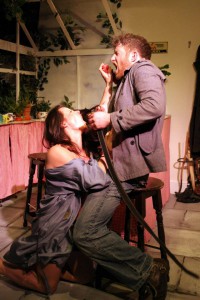 This production was proudly supported by
Unity Theatre Trust