I am a Set and Costume Designer and this has been my first adventure with Epsilon Productions and also with the Park Theatre but having been recommended by Sherry, lighting designer, I knew I would have at least one friendly face on the team! This is a little insight in to the process of designing for Chicken Shop and some of the themes and elements I hope come across when watching the show.
Chicken Shop covers a broad spectrum of meaty topics across its two hours including trafficking, bullying, same sex parents and the everyday trials of growing up. However, from a design point of view, what it needs as a platform to powerfully express these topics is pretty simple. A living room, a bedroom and a room above a chicken shop.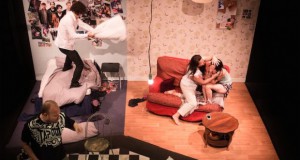 The challenge then comes in making these spaces feel believable and lived in and how they each co-exist with the others. My starting point came with the characters and who is the dominant person in each space: Hilary, Hendrix and Luminita. This gave me a focal point for the décor, props and colour scheme. As a designer, I find colour very important as a tool to express characteristics and emotions and also as a great visual identifier of who fits with who and in what space. I found this particularly key with Chicken Shop as so much of its content focuses on relationships between characters and using distinct colour palettes can easily identify clashing and complimentary characters. As well as the colours helping to tell the story, the physical relationship between the spaces was key too. I wanted Luminita's world to feel very close by but also unknown to most, as she puts it, Luminita just made a "bad, bad, bad decision". Her constant presence was a key element of both the design and direction with her staying on stage throughout the whole piece and this helped determine the positioning of her area, almost so she had to be looked over to see in to the domestic scenes behind.
Lighting has been very important throughout this process at helping to define the different spaces and draw attention to the different action and the movement of time across the whole piece. This is where Sherry Coenen stepped in as our lighting designer and helped create a beautifully atmospheric element to the whole aesthetic, see her blog entry for more information on her process.
Whilst my work as a designer is a very creative role there are also a lot of other elements to my job. Organisation, time management and collaboration are key to successful shows and these elements were even more present with this project as I joined the team very last minute and so really had to hit the floor running. Luckily, the team I have had the pleasure of working with were fantastic and one of those wonderful companies where there were no actor/crew divides which always results in a great working environment. It is always nerve wracking as a designer to see whether decisions and ideas implemented ever come across in the right way to the audience and create the right atmosphere and aesthetic, fingers crossed this will be the case for Chicken Shop!