Back in 2014 we were invited to join Boon Dog Theatre as Lead Producer on there already successful piece of theatre, The State vs John Hayes, written and performed by the very talented Lucy Roslyn.
Our first stop with TSvsJH was up to The Lowry in Manchester to open their 2015 season. We had a sell show and the company buzz was palpable.
We then decided to venture down to the Brighton Fringe in May.
The audience and critic response was overwhelming and culminated in us winning an ARGUS ANGEL AWARD for Artistic Excellence, the GEMINI PRINT AWARD for "Best Poster Design" and nominated for "Brighton Fringe Award for Theatre"
All of this was truly amazing but to be honest, and I think I speak for all of us, we had the most amazing time just being 4 girls by the seaside, with fish and chips and cup cakes.

The aim all along was to get the production into London, so when we were offered to headline the new 'Festival 45 for New Writting' at The Kings Head, to say we were over the moon is an understatement.
We hosted a star studied press night with the likes of Sir Tony Robinson, Olivier Award winning producer Guy Masterson, not to mention the all important press. We had an amazing night, Lucy acted her socks off and you only have to see amount of stars we gained to know we had a hit on our hands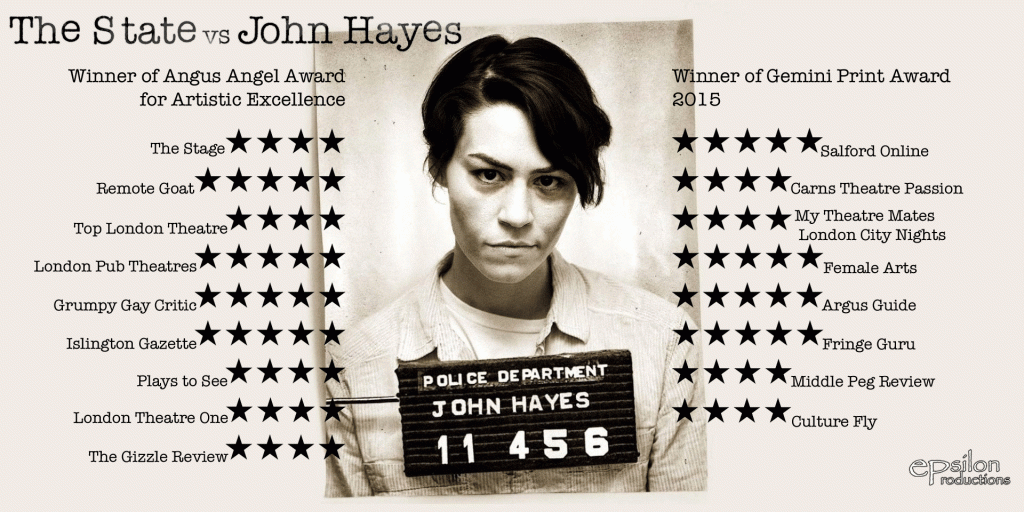 The buzz that had grown from our travels around the UK followed us into town with huge force. The whole team thank each and every one of our supporters, who followed the production, re tweeting, spreading the word and giving us a sell out production and then ultimately voting for us in the ALSO RECOGNISED AWARDS from My Theatre Mates.
Lucy was nominated for BEST SOLO PERFORMANCE and came in second, to none other than Zoe Wanamaker…. I'd say that was a win in itself.
All the wonderful tweets that we received can be seen on our WAKELET page and links to all the reviews can be found on TSvsJH show page, enjoy the read.
So, that was 2015, it takes my breath away just thinking about the whirl wind year. All that is left to say is my personal thank you to the wonderful team Epsilon have behind it. I feel so very lucky and honored to be able to work with you…. lets do it again some time soon because you lot rock