Epsilon Productions presents
THE STATE VS JOHN HAYES
written and performed by Lucy Roslyn

Directed by Jemma Gross
Epsilon Productions have had a triumphant year with the huge success of The State Vs John Hayes and would to thank everyone who came and supported the production throughout the year, from Manchester to Brighton.
Our remarkable team have once again done us proud and we can't thank the enough for their passion, patience and skill
Author – Lucy Roslyn
Director – Jemma Gross
Lighting Designer – Sherry Coenen
Sound Designer – Sophie Cotton
Original Music – Joe Bennett
Production Manager – Christopher Silvester
Assitant Director – Charlotte Marigot
Production Photographer – Jemma Gross and Andy Colbourne
Art Designer – Lucy Axworthy
PR – Chris Hislop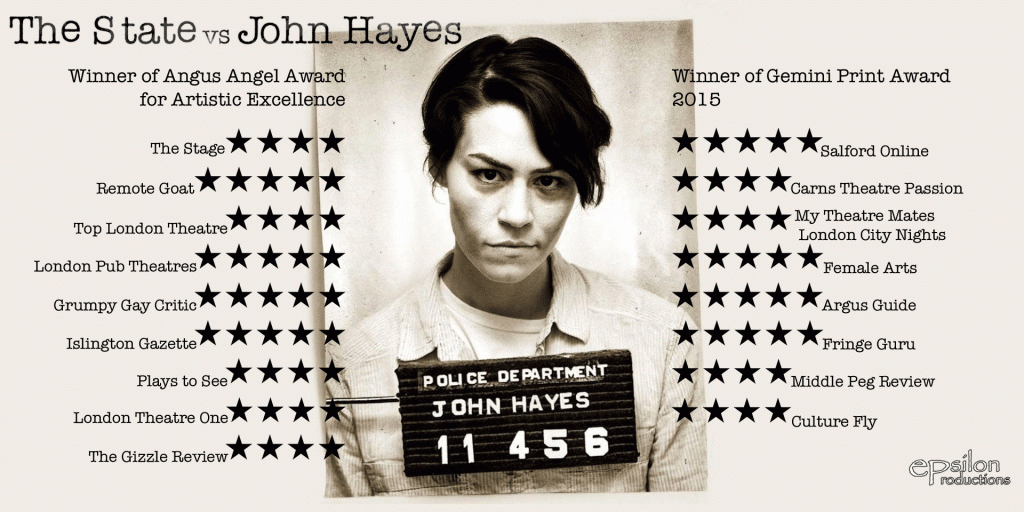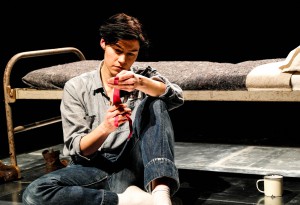 ---
London Reviews
★★★★ – "a slick and entertaining show", "Roslyn's performance is astonishing", "a very special, intriguing and disturbing piece of theatre – it may only be an hour in length but its impact lasts much longer", "a gripping and disturbing hour"
★★★★★ –  "It is impossible to look away"
★★★★★ – "Roslyn as Dukie/Hayes has the audience in the palm of her hand" "Within its 60 minutes, more is said about gender, identity and female sexuality than many plays twice its length", "has the audience mesmerised from start to finish", "a tour-de-force performance"
★★★★★ – "An extraordinary play spiced with much dark humour", "Roslyn is very convincing (…) her performance is captivating", "a unique and thought provoking play"
★★★★★ – "dangerous and thrilling, helmed by a complicated but arresting character", "absolutely gripping", "an intense and troubling hour", "a blistering piece of theatre", "a spectacular performance", "there isn't a more complete and incredible performance currently anywhere in London"
★★★★★ – "riveting", "a brilliantly honest performance"
★★★★ – "skilfully directed", "frightening and witty in equal measure", "an outstanding performance", "one not to miss"
★★★★ – "intriguing and complex", "an incredible, raw and powerful piece of theatre", "fearless, strong and honest"
★★★★ – "such an original and engaging piece of work"
★★★★ – "a fascinating insight into the psychology of a murderer, with a stunning solo performance from Lucy Roslyn", "Raising some hard questions about justice, gender and mental illness, this is a powerful and well-staged production that needs to be seen"
★★★★ – "deliciously chilling authenticity", "incredible performance", "charismatic, charming, endearing, dangerous, unpredictable and delves into dark comic territory with a wicked smile", "a truly captivating and provocative hour"
★★★★ – "fantastic", "Simple. Effective. Engrossing."
★★★★ – "like spending an hour in a lion's cage, "at times you can almost smell the disinfectant and feel the dread of death row.","the epitome of a performance-centred character piece"
★★★★ – "emotionally charged", "charismatic Lucy Roslyn is outstanding", "The King's Head never disappoints"
★★★★ – "a brilliant performance", "enjoyable"
★★★★ – "extraordinary", "a gripping and disturbing hour of theatre"
Touring Reviews
Brighton Festival, May 2015
"This has to be one of the best shows at this years' Fringe." 
"A fascinating, riddling play."
The Lowry Studio, January 2015
"If I were to sum this play up in a sentence it would be this: a compelling, twisted drama that I wished would never end."
John Lloyd's MUST SEE for theatre, Edinburgh Festival 2013
★★★★★

 
BroadwayBaby.com
"This harrowing script is further haunted by actress Lucy Roslyn's total embodiment of the character"
★★★★★

London grip.co.uk

"Lucy Roslyn is utterly compelling…Deftly weaving a story of Abandonment and abuse"
Huntsville prison, Texas, 1959. Elyese Dukie is on Death Row for the murder of two people. Tomorrow she goes to court for the last time. But tonight Elyese reveals the one thing she won't tell the court or the string of psychiatrists sent to diagnose her: that she is not alone in her cell… John Hayes is in there with her. 
Psychopath, or seductress? 
Murderer, or manipulator? 
Psychiatric hospital, or the electric chair?
A striking one-act, psychological thriller laced with dark humour. Based on extensive research into real-life female killers. 
"I would do anything for someone I loved"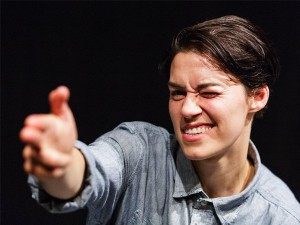 Brief back history of the show and those involved:
The State Vs John Hayes is Lucy Roslyn's first piece of writing for stage. Based on extensive research into female killers and life on death row. It was first performed at the Hen and Chickens theatre in Islington, 2012. It went on to perform a full run at the Edinburgh Fringe Festival, C Venues, 2013 where it received critical acclaim, and then the Ustinov Studio, Theatre Royal Bath, 2014 and at The Lowry Studio in January of this year.
It was originally directed by Richard Warren. Key image (mugshot) by Paul Hancock. Original music by Joe Bennett. Press representative Chiara Ciabattoni.
Excluding the main character (Elyese Dukie/John Hayes) all characters in the play are named after killers and their victims.